Our 3rd giveaway is 3 Arbonne Eye Shadows. You can see the colors in the picture above.
Arbonne is a great natural Swiss products company. I am not an active consultant anymore but I still very much love the products!
This prize is sponsored by me, here at Domestic Randomness. If you haven't yet please feel free to poke around and see what it is I do and what this blog is all about. You can see the main topics I write about in the tabs at the top of the page.
I am running a survey to get to know my readers a little bit more and see what you are interested in. I will also be using the information that I gather to make sure that the ads, promotions, and reviews that I run will be of interest to my readers. So if you would be willing to fill out this quick survey for me (and I do mean quick, it should only take you a few minutes) that would be really great! Filling out this survey will also get you an entry into this and a couple other upcoming giveaways. Simply fill out the
Domestic Randomness Survey
form and submit and then go down to the rafflecopter and enter through the Fill out the Survey option.
Domestic Randomness Survey
Thanks for your help! There are many other entry options below, check it out.
I'd love it if you'd take a button!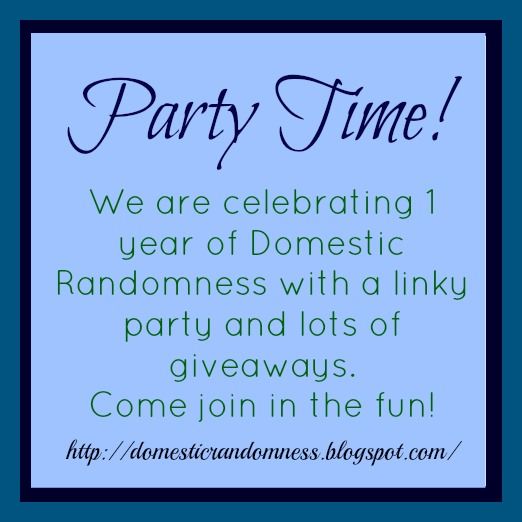 a Rafflecopter giveaway
Linked Up To:
Shopper Strategy
,
Sweep Tight Blog Giveaways
,
Sweep Tight Rafflecopter Giveaways
,
CashNet
,
Just Sweep
,
Airplanes and Dragonflies
,
Blog Giveaways
,
The Steady Hand
,
Family Focus Blog
,
Mom Giveaways
,
Home Jobs by Mom
,
I Love Giveaways
,
Contest Listings
,
Sweeties Sweeps
,
5 Minutes for Mom
,
Coupon Geek
,
Deal Seeking Mom
,
Enter Online Sweeps
,
Mommy Jenna
,
Gracious Giveaways and Reviews
,
Look What Mom Found & Dad too
,
Miki's Hope
,
Saving Money Plan
,
My Crafty Life
,