If you didn't catch it before Friday Fascinations is back! Go on over and
link up
!
As I was going through my old posts to see what # my latest linky party would be I noticed that I accidentally did not post features from Friday Fascinations 6 and 7 so I figured I would go ahead and post them here. Better late than never I guess. Sorry to all of you, that I did not get you featured before. So anyways here they are!
For those who are featured get yourself a button!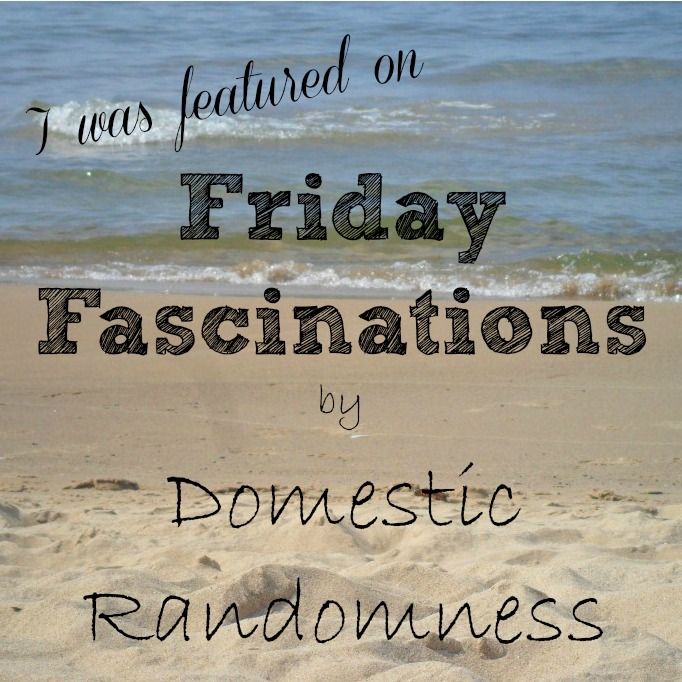 Friday Fascinations 6 Features
Favorite Recipe
Favorite Craft Idea
And Who Say's You Can't linked up her
Top 10 Projects for Frames
. Very Cool, lots of great ideas!
Favorite Kid Post
Delivering Grace linked up some ideas if if you experience
Picture Book Fatigue
(when preschool children get sick of the same old picture books but aren't ready for chapter books yet). Great ideas!
Friday Fascinations 7 Features
Favorite Recipe
One Creative Mommy linked up her recipe for
Dehydrated Pears and DIY Fruit Rolls
. My mom makes dehydrated fruit and I have always loved it! This makes me think maybe I should borrow her dehydrator and make myself some yummy dried fruit. And OCM I agree with you about dehydrated pairs being the best with a chewy center.
Favorite Craft Post
The Domesticated Princess linked up her post about
a ring that she turned into a necklace
. The story behind the ring is very touching, and the new necklace looks great!
Favorite Inspirational Post
One Creative Mommy linked up a post where she talks about her daughter going
Gluten Free because of Celiac Disease
. It is very touching. This subject is important to me because I have several family member who are gluten free and one who has celiac. Gluten free is becoming more and more common, I think most people know at least one person who is going gluten free. So this post is good for all of us. I am planning to go look at some of her other gluten free posts.
Thanks for all of you who linked up! Again, sorry it took me so long to post these. They were definitely worth looking at again!